He Won't Stop Itching! An Owner's Guide to Itchy Skin in Dogs
Itchy skin can happen for a number of reasons in dogs ranging from flea bites, to allergies, to infections. As the skin's normal reaction to most causes of itchy skin is to become pink/red, with or without a rash, it makes diagnosing the exact cause at home particularly difficult. Whilst we recommend consultation with one of our veterinarians, the following is some information about some of the most common causes of itching.
1) Treat for fleas
Have a good look over your dog's coat for fleas by parting the fur and looking at the skin. Sometimes you may not see fleas, but you may see 'flea dirt/faeces', which are little dark flecks throughout the coat. If you collect this dirt and moisten it on a paper towel, the dirt may turn red due to the high blood content in the faeces.
Fleas are a common cause of itching, even if you have not found evidence of fleas or flea dirt on your pet. Some pets have allergies to flea bites, which means as little as one flea bite can set off serious itching. These dogs can develop an itchy rash over the tail base that may extend up their backs.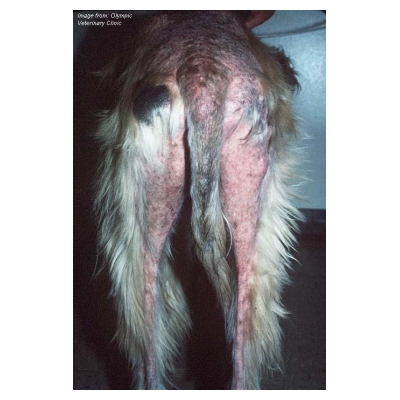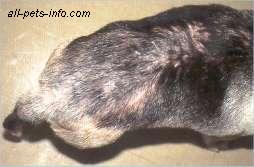 If your pet's flea treatment is not up to date, we recommend applying a flea control product. Most flea control products need to be re-applied every 4 to 6 weeks, but animals with allergies to fleas may need more frequent treatment. Please discuss with a veterinarian before increasing frequency of flea treatment. We sell a number of flea control products over the counter, including both spot-on and tablet forms. Feel free to pop in and talk to our experienced receptionists and veterinary nurses about what product is best for your dog.
Find out more about your pet's options for flea control here.
Learn more about the other diseases, bacteria and parasites that fleas can transmit to both pets and humans here.
2) Contact Allergy
When a dog's skin comes into contact with a substance they are sensitive or allergic to, this can set off an inflammatory reaction resulting reddening of the skin and/or development of a rash or flaky skin.
The skin issues often occur on the non- or only finely-haired areas of the armpits, tummy and groin. This is because these areas are in close contact with the allergen whilst walking or lying down and are not protected by the hair coat. Sometimes, they can occur around the muzzle region if the pet has put his/her face in contact with the allergen.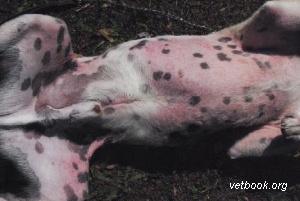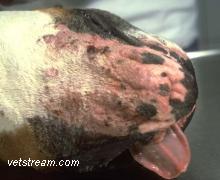 The skin reaction is usually intermittent, and may respond well to treatment but return again upon contact with the offending allergen.
The most common contact allergen in dogs that we see in the Manawatu region is the plant Wandering Jew. This plant is commonly found along walkways in bush by the river/esplanade scenic routes and Turitea walkways. It can also be found in the backyard, where it can grow prolifically.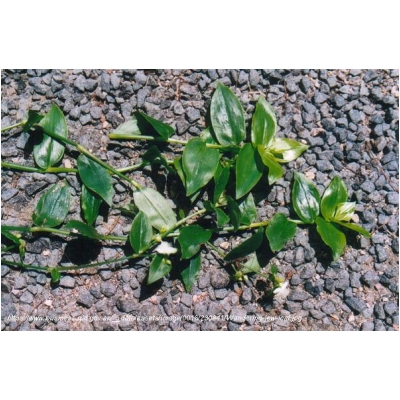 If your dog is itchy from a contact allergy, he/she may need a short course of topical (applied to the skin surface), orally administered steroid tablets (e.g. Prednil or Prednisone) or other anti-inflammatory medication (e.g. Apoquel) to stop the itching. Some pets may also need a prescription of antibiotics if a secondary bacterial infection is also present. Whilst this will stop the itching and make the pet feel more comfortable, if they come into contact with the allergen again after they have finished their medication, they will likely develop a reaction again.
Reducing the likelihood of contact allergies recurring
There are some measures you can do to minimise contact allergies:
If possible, remove access to the offending allergen.
If exposure to the allergen is intermittent (e.g. on a favourite walk), barrier creams can be applied to the finely-haired skin on the tummy to provide an occlusive layer that prevents contact of the allergen with the skin. As some barrier creams can be toxic if ingested, it is important that this is only applied to dogs that will not lick it off. The barrier cream can then be wiped or washed off after walks.
Covering sparsely haired areas on the tummy/groin with clothing may be possible for some dogs, either using dog-outfits or baby/children's clothes. Please ensure that your pet will not overheat while wearing clothes, particularly in summer when heat-stroke can occur.
3) Infections with mites (Demodex and Sarcoptes spp.)
Demodex mites

can be found in the skin of healthy dogs, it is only when they overgrow that they cause a problem. Most of the time there is no, or only mild itching present, and the only sign of overgrowth in some dogs may be patchy hair loss. Sometimes overgrowth of the demodex mite can be caused by hormonal fluctuations (e.g. going through puberty in dogs) or by underlying diseases. Depending on your dog's age and findings on examination, your veterinarian may recommend blood tests to see if there is any underlying condition. Once in overgrowth, Demodex mites need to be treated. The most common treatment is with either an oral medication or injection.
On the other hand, Sarcoptes mites cause extreme itching and are not normally present in healthy dogs. They are highly contagious, and spread between dogs which have come into contact. As the mites can also bite people, owners often find that they are itchy as well, often in areas which have contacted the pet, such as the hands, arms and chest. Fortunately, infection with Sarcoptes is rare in dogs in New Zealand. Anti-mite treatment can be prescribed by your veterinarian. If you have a rash from being in contact with an infected pet, it will usually clear up without additional treatment while your pet is being treated. Consult your GP if your rash remains persistent after being in contact with an infected pet.
To diagnose mites, skin scrapes need to be taken and assessed under the microscope. To do this, your veterinarian will gently scrape the skin with a scalpel blade. Whilst this may leave a small graze, it is usually not painful and most pets tolerate this very well. Sedation may be required if the pet will not sit still.
4) Bacterial and yeast infections
Bacterial and yeast infections of the skin usually occur secondary to other causes. The most common cause that we see here is secondary to an underling allergy.
Bacterial and yeast infections can be very itchy, and can add extra itch to an underlying allergy.
Your veterinarian may recommend a tape-prep (when a piece of clear sticky tape is stuck onto the skin, and then pulled off to provide a sample of the top layer of skin cells and bacteria/yeast) or smear of the skin. These skin samples can be examined under the microscope for bacterial or yeast overgrowth.
Depending on the cause and the severity, medicated shampoo, topical creams, oral antibiotics and/or anti-yeast medications may be prescribed. In more severe cases, prolonged treatment with oral antibiotics may be required for 4 – 8 weeks.
If the infection occured secondary to an allergy, then the underlying allergy needs to be treated or managed to prevent recurrence (see below).

5) Ringworm infections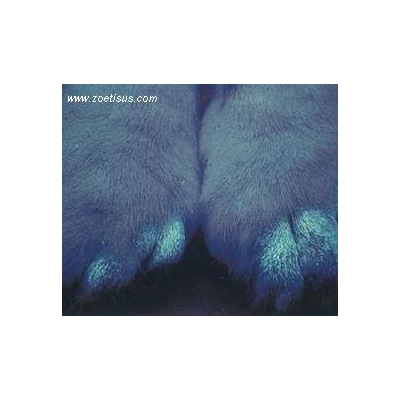 Ringworm infections are common in both dogs and cats. Contrary to popular belief, ringworm is not actually a worm infection, but rather a fungal infection of the skin.
Sometimes, ringworm can be present in pets without any external signs. Other times, they can cause patchy areas of hair loss. They are usually not itchy, but mild itch might be seen in some dogs.
To test for ringworm, we can shine an ultraviolet light (Wood's Lamp) over your pet. In about 50% of ringworm cases, the skin lesions will fluoresce a bright apple-green colour as shown in the photo. If we suspect ringworm and your pet does not fluoresce under the ultraviolet light, we will usually send a sample of your pets fur to the diagnostic laboratory, where they can actually grow and identify the fungus.
If there are only one or two patches on your dog, we can prescribe an antifungal cream. If there are many patches or if the infection is generalised, your dog may need treatment with an oral antifungal medication.
6) Food allergy
Food allergies are relatively common, and may occur to a protein or other component in the food. The allergy may manifest in the skin, where itching is common around the ears, paws, muzzle, groin and bum. Recurring ear infections and secondary skin infections may be a feature.
Unfortunately food allergies can look very similar to Atopy (see below). Therefore, if we are suspicious that your pets skin itching might be caused by an allergy, we will often recommend a food trial to rule out a food allergy.
Food trials can be conducted with a veterinary prescription diet that either contains a hydrolyzed protein (where the protein is broken down into short amino acid sequences) or a novel protein that the pet may not have been exposed to. Home-cooked diets containing a novel diet may also be tried, however, these are often more expensive and time consuming to cook, and care needs to be taken to make them nutritionally balanced.We recommend talking to a veterinarian before altering the diet to ensure that you select the best option for your pet.
Food trials need to be continued for at least 6 – 8 weeks and must be fed as the sole diet to be effective. This means no treats or scavenging for the entire trial period.
7) Atopy or "Environmental Allergy"
Atopy is an inhaled allergy. This inhaled allergy manifests as itchy skin rather than a cough or asthma.
Allergens may include pollens, dust and dust mites, and many more.
Atopy usually starts in young dogs between 1 and 3 years of age, but it may start in older dogs if you move to a new area and your pet is exposed to new allergens.
It can be very difficult, and sometimes impossible to find the allergens that are causing the allergic reaction. There is the option of taking your pet to a dermatology expert for intradermal testing. With intradermal testing, small amounts of common allergens are injected into the skin and the reaction to these allergens is assessed. Following this, dermatology experts may also be able to give your pet a vaccine against known allergens. This may improve the clinical signs in some (but not all) patients.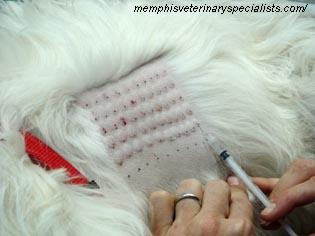 The main treatment for atopy is oral medication with Prednisone or other anti-inflammatory or immunomodulatory medication (e.g. Apoquel or Atopica). Some animals may only need treatment during certain seasons of the year when their skin is most affected. Other animals may need treatment year-round.
Does your dog have itchy skin?
If you are concerned that your dog has a skin condition, please book an appointment to see one of our veterinarians to assess. It is helpful to bring along the flea medications, any pet shampoos and oral medication that your pet is on. It will also be very helpful if you could bring along the brand and flavour of your dog's food and treats to the consultation - take a photo of the dog food packets/cans if this is easier. Do feel free to contact us at (06) 3588675 if your have any enquires about your dog's skin condition.
Published by Cahill Animal Hospital on 30 July 2016