In Loving Memory: Our beloved clinic cat Bling (2008 - 2020)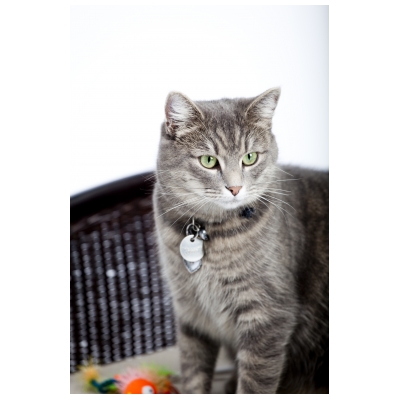 It is with great sadness and a heavy heart that we share the news that our beloved clinic cat Bling was euthanised on the evening of 18 May 2020. She was diagnosed with intestinal cancer two weeks ago. The cancer was located in an area of the intestine where surgery was not an option. Bling hated needles and so we decided that it was not the right decision for her to pursue chemotherapy. Bling had a couple of good and comfortable weeks on palliative treatment, before deteriorating rapidly over the 24 hours prior to her passing away peacefully.
Bling has brought a lot of joy to so many people since she adopted us in October 2008. She really has been the Broadway Avenue cat (between Princess & Albert Streets), visiting many of the business nearby and even featuring in Carncott School's yearbook on many occasions. She would often hang out at Cottage Flowers, Eyes on Broadway, Spark, Watson's Real Estate, and in her younger days she would pay a visit to Roses Unichem Pharmacy in her spare time! She had special Christmas collars made up by Cottage Flowers & they even had to open up their business once on a public holiday when she got herself locked in there!
To our clients, Bling was often the first to greet them. She loved to lounge on the bonnets of cars at the front of our building or on the footpath & we're sure she took a cat's pleasure in teasing the dogs that came past. She would often sit beside people and their pets waiting for their appointments as if to say "don't worry, we will look after you".
To our staff, Bling has been our boss! She picked her seat to sit on, demanded her meals and regular grooms on time and was very quick to steal any lunches left on our staffroom table. She liked to be part of our in clinic displays & find a comfy spot to rest right in the middle of them. Like the rest of us, she did not enjoy having to be confined during the recent lockdown; however, she brought the staff working over this period a lot of joy with her antics.
Darling Bling, we love you and will miss you terribly. We even forgive you the many bags of food that you have broken into over the years (usually the biggest & most expensive bag of dog food in the building!). We will miss the times when you've demanded for the water faucet to be turned on for you to drink out of, even if it's during the busiest time of the day. We will also miss the quiet moments when you sit with us out in the summer sunshine during our lunch breaks. Your presence has provided us with much solace and comfort during stressful days, and your calming purrs are simply music to our ears. Bling will always be fondly remembered in our hearts and we are sure in many of yours.
Page created by Cahill Animal Hospital on 19 May 2020