Latest Promotions & Competitions
♦♦♦♦♦
Go in the draw to **WIN** a SPA POOL or a JET SKI or an OUTDOOR FURNITURE SET!
To qualify, simply come into our clinic and purchase either:
A 3 or 6-pack of Frontline Plus for dogs or cats; or
a 3-pack of Nexgard Chewables for dogs; or
3 packs of Broadline for cats
Promotional period runs from 01 Sept 2017 to 29 Dec 2017 inclusive.
National draw dates are on 31 Oct 2017, 30 Nov 2017 and 10 Jan 2018.
Proof of entry is required to claim the prize.
Terms & conditions apply, see in clinic for details.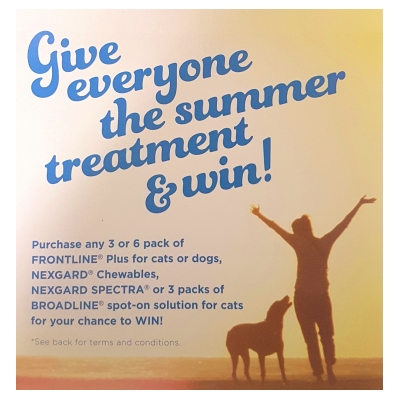 Page last updated by Cahill Animal Hospital on 03 September 2017