Itchy Skin and Allergies in Dogs
Itchy skin can happen for a number of reasons in dogs ranging from flea bites, to allergies, to infections. As the skin's normal reaction to most causes of itchy skin is to become pink/red, with or without a rash, it makes diagnosing the exact cause at home particularly difficult. We understand that seeing your dog constantly itching, scratching, and chewing at their skin is incredibly difficult for both of you. The following information on this page is intended to educate pet owners on the different types of diagnostic tests available to investigate why your dog is itchy. Tap on the links below to read further about:
Unfortunately for most dogs with allergies, there is no quick-fix or easy cure, and they will require lifelong management plans, unique to their particular diagnosis and allergic triggers.
Diagnostic Testing for Dogs with Itchy Skin & Allergies
The following are commonly performed tests to help diagnose the reason behind your dog's itchy skin. Your veterinarian will select which tests are appropriate for your pet based on their clinical history and examination. As there are many potential causes, multiple tests are often needed to try and include or exclude possible causes of your dog's allergies.
1) Flea comb
This helps identify the presence of fleas and flea dirt.
Your veterinarian will use a fine-toothed comb to check your dog's coat for fleas or their droppings (flea dirt). The sample is often placed on a damp paper towel which will turn red due to the digested blood present within the flea droppings.

2) Skin scrapes
This test is used to diagnose mites or 'mange'.
Your veterinarian will take a scalpel blade and gently scrape the surface of your dog's skin to collect a sample, often under sedation. The sample is then examined under the microscope to look for mites such as Demodex (see image below) and Sarcoptes. In some cases, mite can be difficult to find, even with a skin scrape, and your vet might still prescribe treatment if they are suspicious of a mite problem or to rule it out.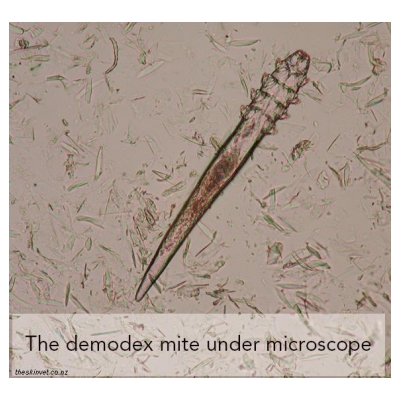 3) Skin cytology ­­
This test is to diagnose secondary infection.
Skin surface samples are collected using sticky tape or by pressing a glass microscope slide onto an affected area of skin. These samples can then be examined under the microscope to look for an overgrowth of bacteria and yeast.
4) Elimination Diets & Food Trials
This is to test whether a food allergy is present.
Whilst this might sound simple, adhering to a STRICT diet trial can be difficult, especially in a household with multiple dogs.
For an elimination diet to be diagnostic, your dog needs to eat ONLY the diet prescribed by your vet and nothing else for at least eight weeks. This includes flavoured medications, flavoured worm tablets, and treats. Make sure the whole family is on board and that your dog cannot access another pet's food bowls or treats! The two types of diets typically used for an elimination trial are:
(a) Hydrolysed diets – containing proteins that have been broken down to prevent the immune system from mounting an allergic response
(b) Novel protein/carbohydrate diets – made from ingredients that your dog has never been exposed to before
It is important to use a diet prescribed by your vet and not just a 'grain-free' or 'sensitive skin' formula from the pet store as most of these diets are not truly hypoallergenic and still contain ingredients that your dog may react to – making the food trial completely useless as a diagnostic tool.
5) Intradermal skin testing
Also known as allergy testing for dogs, usually to make an 'allergy vaccine' (immunotherapy).
Referral to a specialist may be required to help identify and manage your dog's skin allergies.
Under sedation, multiple allergens are injected into a section of skin to see which cause a swelling or allergic reaction (see below). The specialist will then interpret the results of the allergy test, and use this information to manufacture a vaccine to slowly desensitise your dog to these allergens.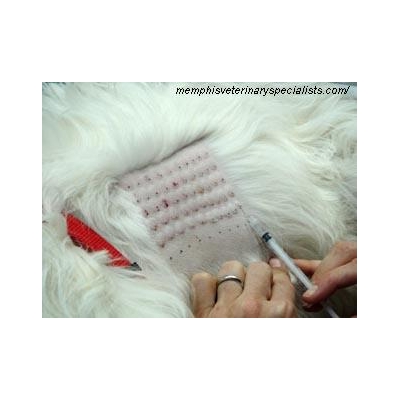 Does your dog have itchy skin?
The above information is provided for educational purposes only and not intended or implied to be a substitute for professional veterinary medical advice, diagnosis or treatment; and should not be relied on solely as veterinary advice.
If you are concerned that your dog has a skin condition, please phone us on (06) 3588675 to book them in with our team of veterinarians for a check over. It is helpful to bring along the flea medications, any pet shampoos and oral medication that your pet is on. It will also be very helpful if you could bring along the brand and flavour of your dog's food and treats to the consultation - take a photo of the dog food packets/cans if this is easier.
Published by Cahill Animal Hospital on 27 June 2021