Annual Health Checks and Vaccinations
To keep your pet healthy, an annual health check with your veterinarian is recommended. During this check, your veterinarian will perform a full physical examination and discuss your pet's vaccination requirements with you. You can also discuss any problems or concerns you have with your pet during this time. Annual health checks are very important for early recognition of health problems such as heart, dental and thyroid disease.
If you miss a booster vaccination or yearly vaccination, please let us know so we can give your pet the best care possible and update the vaccinations where required. Our clinic's vaccination protocol is based on the World Small Animal Veterinary Association 2015 Vaccination Guidelines - read more here.
As your pet's vaccination card/booklet is a legal document, this needs to be up to date. It is very important to bring their vaccination card along when your pet/s comes in for their annual check and vaccinations.
Every household is unique and therefore pets in different households may require different combinations of vaccinations. Thence, your veterinarian may suggest you do things slightly differently than those discussed below. Should you have further enquires regarding your pet's vaccination status, please phone us at (06) 358 8675 to have a chat with one of our friendly team members.
Dog Vaccinations
(1) Vanguard Plus 5 - "core" vaccination
This vaccination confers protection against the canine distemper virus, canine adenovirus 1 & 2, parvovirus and parainfluenza virus. These five viruses are contagious and potentially life-threatening viral diseases for young dogs; therefore, all dogs should be vaccinated for these. Vanguard Plus 5 is administered to puppies at 8, 12 and 16 weeks of age, with the first adult booster being one year after the final puppy vaccination. Boosters are required every 2 years after this.
(2) Leptoguard - optional vaccination, please discuss with your veterinarian
This vaccination confers protection against the bacteria Leptospira interrogans serovar copenhageni: Leptospirosis is a fatal bacterial infection transmitted by the rodent, hedgehog and possum population. It is an uncommon disease, but Leptospirosis has been found in rats in the Manawatu. Livestock animals (cows, sheep, goats etc) are thought to be "reservoir" hosts for leptospirosis and can shed large amount of bacteria in their urine. Animals may be affected with leptospirosis without showing any outward clinical signs. The leptospira spp. bacteria can survive in the damp soil for extended periods, and spread rapidly in flood conditions. We recommend vaccination of rural/hunting dogs, dogs living or exercising near waterways. Vaccination against leptospirosis is recommended at the 12 and 16 week old vaccination, with regular yearly updates.
Do note that the vaccination interval for killed vaccines such as Leptoguard is very important - if the annual booster is overdue by more than 4 months, we will need to restart the primary course (i.e 2 priming doses) again. Therefore, please ensure that your pet's Leptoguard vaccinations are boostered in a timely fashion.
You may also read more about Leptospirosis here.
(3) Nobivac KC or Canigen KC - optional vaccination, please discuss wih your veterinarian
This vaccination confers protection against the bacteria Bordetella bronchiseptica, an organism commonly implicated in "kennel cough". Kennel cough is a broad term for an upper respiratory tract infection (infectious tracheobronchitis) that can be caused by several organisms, most of which can be vaccinated for. It is also important to realise that the term "kennel" cough is somewhat misleading in that your dog does not necessary have to be in the kennels to catch this infection - he/she can also pick it up from greeting or socialising with other dogs outside your home. We recommend vaccination of all dogs going into boarding kennels, attending dog shows or other multi-dog situations, agility or obedience classes. Puppies are vaccinated for kennel cough starting at 12 to 16 weeks of age, and either the injectable or intra-nasal (squirted up the nose) are both effective at stimulating a protective response against Bordetella. The intra-nasal vaccination is given at 12 or 16 weeks old, and then continued with yearly boosters thereafter. The injectable vaccine is given at 12 week old, followed by a 16 week old booster, and then annually thereafter.
Do note that the vaccination interval for killed vaccines such as Nobivac/Canigen KC is very important - if the annual booster is overdue by more than 4 months, we will need to restart the primary course again. Therefore, please ensure that your pet's kennel cough vaccinations are boostered in a timely fashion.
Cat Vaccinations
The core vaccination for cats confers protection against 3 types of viruses. Kittens are vaccinated at 8, 12 and 16 weeks of age, with the first adult booster being one year after the final kitten vaccination. Thereafter, yearly boosters are recommended for cats in "high-risk" situations. A higher-risk cat is defined as a cat that regularly visits a boarding cattery and/or lives in a multi-cat household and/or is primarily an outdoor cat.
The core vaccination for cats typically involves coverage of:
1) Feline herpes/rhinotracheitis virus (a type of cat flu) - This virus is very infectious and affects the upper respiratory tract. If a cat is infected it may show symptoms such as coughing, sneezing, loss of appetite, eye and nose discharge, and may have a fever. This virus can be hard to get rid of and even if the signs have gone the cat can still be a carrier and may have it reoccuring. Kittens are particularly at risk of picking up this virus up, so it is very important to start a vaccination course at around 8 weeks of age.
2) Feline Calicivirus (a type of cat flu) - This virus also affects the upper respiratory tract. Symptoms include, eye and nose discharge, sneezing, sores in the mouth, and pneumonia can also be present. Kittens are at high risk with this virus and it can be picked up easily from any infected cats sneeze or cough. Vaccination will reduce the chance of infection.
3) Feline Panleukopenia (also known as Feline Enteritis) - This virus can affect cats of any age and symptoms include loss of appetite, vomiting, diarrhoea, tremors, incoordination, weakness,and tremors. This is a very severe disease and can cause death. The vaccination is very effective against this virus and all cats should be vaccinated against this.
Other Available Vaccinations for Dogs & Cats
We also offer vaccinations against Rabies (for export purposes), feline immunodeficiency virus (FIV), feline leukaemia virus (FeLV) and chlamydia. These vaccinations are not typically required by the average pet and are only recommended under special circumstances. Please make an appointment with one of our veterinarians should you feel that your pet may be suitable for any of these optional vaccinations, and after assessing your pet, the vet will discuss the risks and benefits of these vaccinations with you.
Rabbit Vaccinations
Vaccination is recommended in rabbits older than 10 weeks of age. A booster vaccination should be given annually. A little bit more on the rabbit calicivirus disease:
Rabbit calicivirus disease, also known as viral haemorrhagic disease, is highly infectious (contagious) amongst the rabbit population.

People and other mammals are not affected by this viral disease.

Infection with the rabbit calicivirius induces a high fever, accompanied by acute necrotising hepatitis (death of liver tissue cells), entertitis (gut inflammation) and lymphoid necrosis (death of cells of immunity). This causes a severe coagulopathy (clotting disorder) and haemorrhages in multiple organs.

Rabbits show few clinical signs and die within 6 to 24 hours of the onset of fever, with most rabbits dying within 42 to 72 hours from the time they were first exposed to the virus.

Mortality rates of rabbits infected with the virus is as high as 90%.

Clinical signs of the disease may include, but are not limited to – appetite loss, lethargy, high fever, spasms, seizures and/or sudden death.

While there is no known cure for the viral haemorrhagic disease, vaccinating your rabbits against the calicivirius helps build immunity, thereby reducing the chances of them contracting the disease.

The rabbit calicivirus may be transmitted in numerous ways:
Via direct contact with an infected rabbit or the faeces of an infected rabbit.

Via indirect hosts such as insects, birds and rodents, when they come in contact with an infected rabbit, and then "transport" the disease when they interact with an unaffected rabbit.

Via inaminate objects (e.g. clothing, shoes, hutches, carriers etc) that have been contaminated by the virus or infected faeces.

Humans can spread the virus to their rabbits when they have been in contact with infected rabbits or objects contaminated by the virus or infected faeces.
Due to a recent change in the recommended storage times on the rabbit calicivirus vaccination vials, we have been advised that once the vaccination vials have been opened, they will have to be used within 10 hours. Each vial contains 10 doses of vaccine. In order to minimise wastage and vaccination costs to you, we have designated a number of Rabbit Vaccination Days throughout the year. Unfortunately, this also means that for clients needing their rabbits vaccinated on days other than the designated Rabbit Vaccination Days, we will have to charge clients for the whole vial. Dates for Rabbit Vaccination Days will be made known via our Facebook page as well as via Annual Health Check reminders that we send out in the mail.
**Please note that Rabbit Vaccination Days are by appointment only – please phone us at 063588675 to book early as slots are strictly limited.**
Adverse Vaccination Reactions
Post-vaccination side effects such as mild depression, lethargy, injection site pain, inappetance and mild fever are not uncommon for up to about 48 hours after vaccination. However, if there is vomiting, diarrhoea, difficulty in breathing, swollen face or paws, please contact us at (06) 3588675 to book a urgent reassessment of your pet, as he/she may be experiencing a serious allergic reaction to the vaccination.
Summary of Pet Vaccinations
Click on the below images to enlarge or download.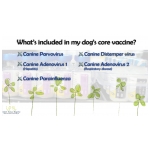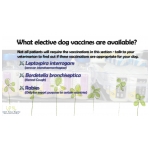 Page last updated by Cahill Animal Hospital on 10 August 2016