♦♦♦♦♦ ♦♦♦♦♦ ♦♦♦♦♦
Please note: Due to COVID-19, we have currently suspended all our puppy preschool classes until further notice. Thank you for your understanding.
♦♦♦♦♦ ♦♦♦♦♦ ♦♦♦♦♦
Puppy Preschool
The clinic offers non-medical services such as Puppy Preschool. Our Puppy Preschool classes are typically run once a week, for four weeks. Our qualified instructors will work with you and your puppy to enhance your understanding of the long term impact of experiences at this age. This will help you understand how puppies learn and allow you to enjoy each other's company in the way you would like to.
Why Puppy Preschool?
Socialising puppies aged 8 to 16 weeks of age allows them to grow into a well-adjusted adult dog. Studies have shown that during this time, it is vital for the puppy's social development to have exposure, not only to their mother and litter mates but also to other puppies, humans and varied experiences. It is also very important to begin basic training at this early stage of your dog's life.
At Cahill Animal Hospital's Puppy Preschool, your puppy will be able to begin socialisation and early training in a calm, safe and positive environment. By the end of the four week course, you will have picked up several tips on training your puppy to become a fantastic companion for you and your family. Download the enrolment form here and enrol your puppy in our Puppy Preschool classes today!
Criteria for Enrolment
Puppies should be:
Be between 8-16 weeks of age

Have had (at least) their first vaccination

Have come from homes where any other dogs present are fully vaccinated
Should you have further enquires about our Puppy Preschool classes, do phone us at (06) 3588675 to chat with a friendly team member.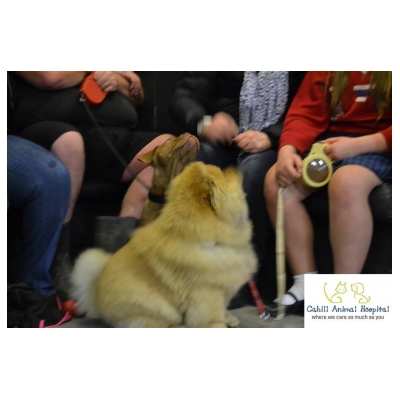 Page updated by Cahill Animal Hospital on 26 September 2019